Abercrombie & Fitch is coming to 3551 N. Southport Avenue this winter and is now hiring.
Abercrombie Southport's Instagram page has a direct link: https://www.instagram.com/abercrombie_southport/
You can also apply directly on Abercrombie's website.
Abercrombie & Fitch has changed quite a bit since the 1990's and 2000's, and had reinvented itself. Gone are the days of shirtless male greeters in front of their stores, as Abercrombie is cool again per Business Insider.
From Refinery29:
"This isn't the Abercrombie of the past, that's for sure," Carey Krug, SVP, Head of Marketing at Abercrombie Brands, writes me in an email. "The brand used to be one focused on people 'fitting in' whereas now, it's one focused on creating a space where everybody truly belongs — and that sentiment is woven throughout all we've done and what is still to come." Abercrombie & Fitch, the youth-centric fashion retailer that infamously used overly sexualized, near-naked models to sell clothes has gone through a massive transformation since CEO Fran Horowitz took over in 2017. These days, A&F is focused on inclusivity, extended sizing, and releasing clothes "reflective of the world around us." It's time to revisit this formerly infamous brand because the clothes are, and I say this with all my 36-year-old heart, extremely good: there are knitted tops I've worn every day, a pair of ripped jeans that I'm actually down with, super cute dresses and jumpsuits that could give Reformation a run for their money, and more. And, I'm not the only one who feels this way. The fashion TikTokkers have also spoken and the consensus is that Abercrombie & Fitch, quite simply, rules.@eliiiserose
When I ask Krug what stands A&F apart from other fashion retailers, she tells me that they're adamantly a customer-first brand with ongoing open communication with their shoppers. "A lot of brands are good at showing customers what they should purchase, but I don't think a lot of brands take a second to listen to their customers — what do they really want?" writes Krug. And, judging by the hundreds of customer ratings and reviews left on product pages, it's clear that fanbase engagement levels for the brand are extremely (and extraordinarily) high. As a retailer that is unafraid to publicly display their customers' honest opinions (a vulnerable move most other brands shy away from), A&F keeps its promise to stay plugged into shoppers' needs. The brand is doing something right because take a click around and you'll see that the majority of product reviews are overwhelmingly enthusiastic.
With that, Krug also explains how, with the brand's recent Denim Your Way campaign, A&F created jeans that directly addressed customer woes. "We said, 'You talked. We listened. Here are your dream jeans.' And it's the best denim collection we've ever launched, in my opinion. We see just as many shout-outs for our Curve Love denim from women of all sizes because they finally have a line that mitigates that dreaded waist gap so many people experience."@madelinelah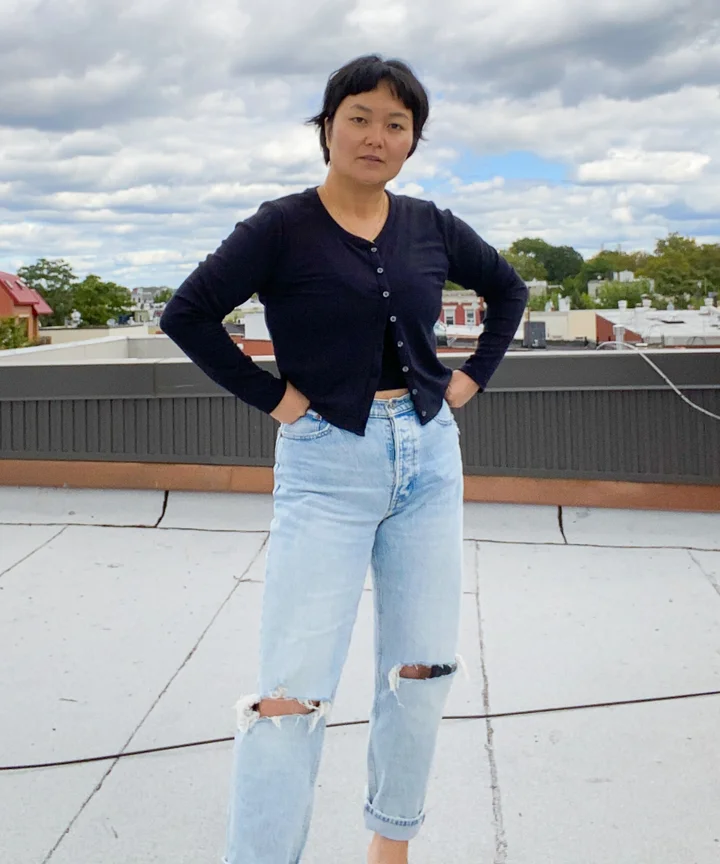 So, I'm not a fashion influencer, but I, too, approve of the A&F denim I tried on for this story. Though I'm normally a stiff-denim snob, I surprisingly loved the whisper of stretch that A&F weaved into these best-selling, pre-torn High Rise Dad Jeans. The ribbed tank and cardi set, made from the brand's softAF fabrication, is perhaps my favorite piece from the current collection because it's so versatile, either worn together or as separates, and the silky, lightweight ribbed material is somehow both cozy and cooling against my skin.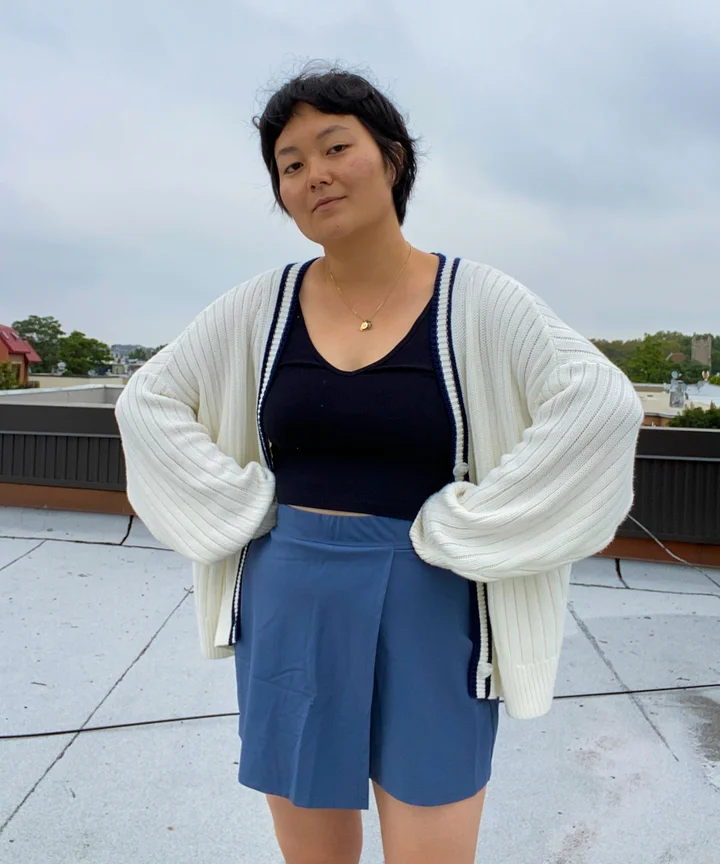 The Traveler Skort stood up to a rousing game of tennis and an at-home pilates session, and the brand's mid-weight oversized cardigans draped exactly how you'd want an oversized sweater to.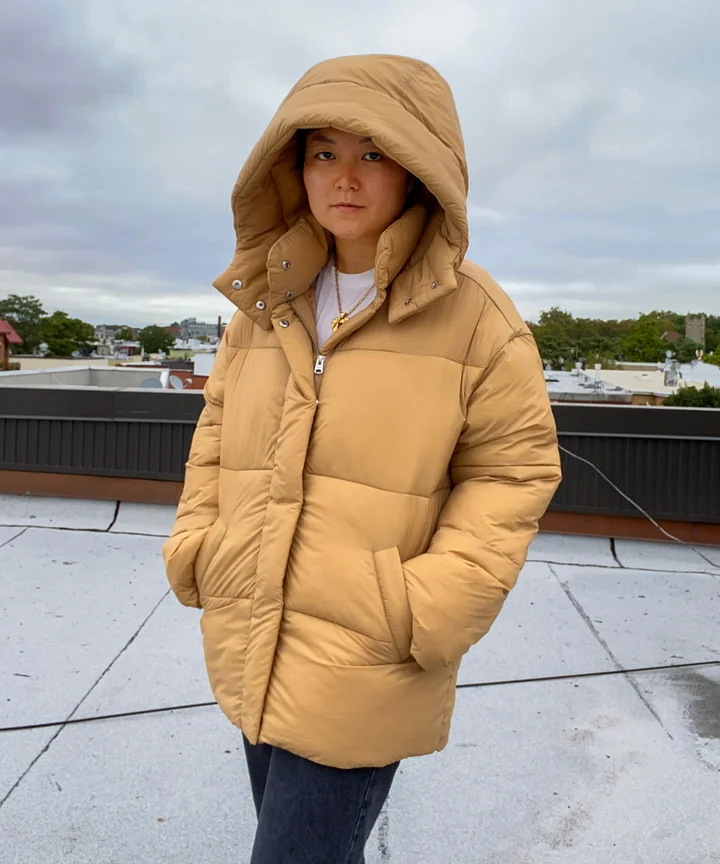 And, you best know that I'll be respectfully wearing the daylights (and nightlights) out of this generously hooded puffer jacket come wintertime.
In case you haven't browsed the A&F site in a minute (or in over a decade), I've asked Krug to walk readers through five of the brand's best-selling items — and why you, too, may fall in love with these runaway style hits."
Abercrombie & Fitch's Best Sellers
SHOP THISABERCROMBIE AND FITCHCurve Love 90s Ultra High Rise Straight JeansBUY$89.00ABERCROMBIE AND FITCH"The 'TikTok Famous' 90s Ultra High-Rise Straight jeans are so comfy and flattering. They have the highest rise that sits at your natural waist and they look incredible paired with a seamless bodysuit or even a shirt, tucked or untucked. They look spectacular on everybody!" writes Krug.
This pair of Curve Love 90s Ultra High Rise Straight Jeans pictured above touts an overall hype of 4.4 out of 5 stars (out of 576 reviews), with one reviewer raving, "THE best jeans. […] Very high waisted but easy to move around and bend down etc in which I love. […] I've been looking for a pair of boyfriend/girlfriend baggier type jeans and just have had no luck finding a comfortable pair with my body type. Small waist, thicker thighs, average height. But these work!"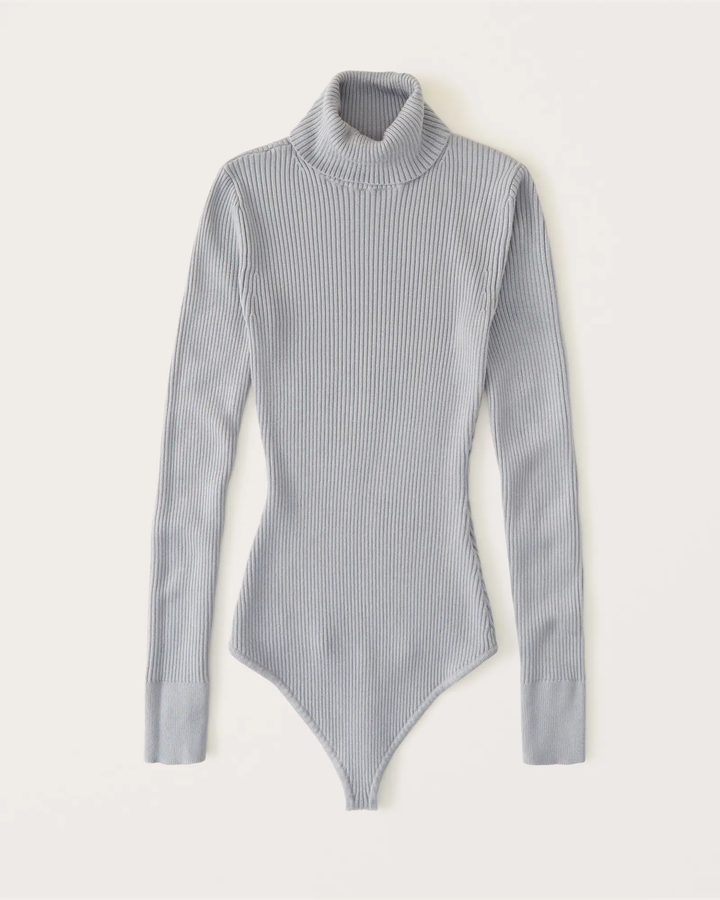 SHOP THISABERCROMBIE AND FITCHSlim Turtleneck Sweater BodysuitBUY$69.01ABERCROMBIE AND FITCH"The seamless bodysuits pair perfectly with jeans or shorts and work so well alone or as a base in multi-layered looks. They are, quite literally, softAF," says Krug.
While the Slim Turtleneck Sweater Bodysuit pictured here is a newer style for fall, the reviews for the sleeveless 90s Seamless Tank Bodysuit are ultra hyped: The $39 bodysuit is rated a 4.6 out of 5 stars with 179 reviews. "Excellent material. I have a long torso and this bodysuit doesn't feel like it's cutting me in half," writes one shopper.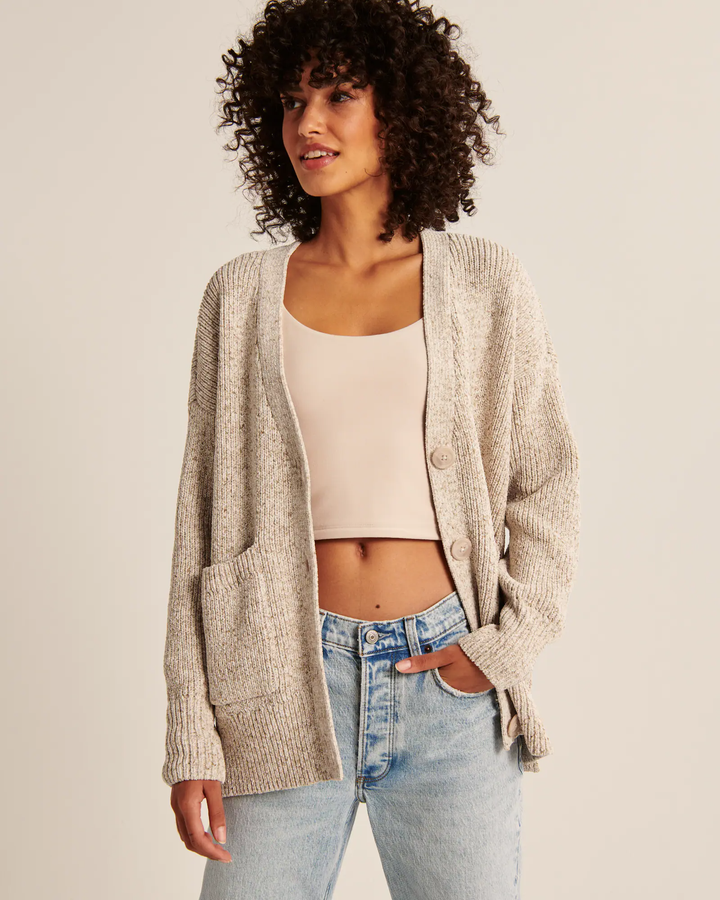 SHOP THISABERCROMBIE AND FITCHOversized Legging-friendly Cable CardiganBUY$79.00ABERCROMBIE AND FITCH"Our cardigans are made from our elevated LuxeLoft fabric and feature button-down fronts and ribbed trims. They're so easy to wear open, closed, or partially closed for multiple looks. They are great for the '90s prep and academia vibes," says Krug.
This fall-ready Oversized Legging-Friendly Cable Cardigan pictured above is a new, chunkier follow-up to summer styles like the Ribbed Tank and Cardigan Set (which, it should be known, has a perfect 5 out of 5 stars). Writes one reviewer of A&F's custom LuxeLoft and soft AF knit fabrics: "So incredibly soft! I love this set so much, it's the perfect level of comfort."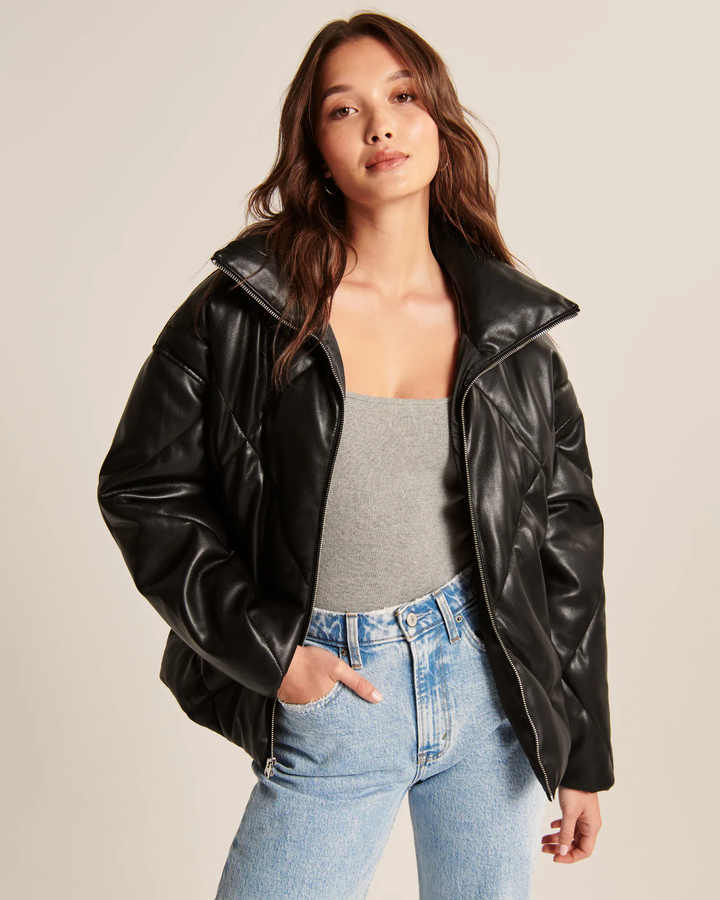 SHOP THISABERCROMBIE AND FITCHVegan Leather Diamond PufferBUY$200.01ABERCROMBIE AND FITCH"Our new vegan leather puffers [The Vegan Leather Diamond Puffer is pictured here] are an easy fit and made from soft vegan leather fabric with the elevated diamond stitch detail. They're that perfect fall puffer, but elevated, and able to be outfitted so many ways," says Krug.
SHOP THISABERCROMBIE AND FITCHHigh Rise Dad JeansBUY$99.00ABERCROMBIE AND FITCH"The High Rise Dad Jeans have that flattering high rise waist with a more relaxed fit throughout the leg. The denim is soft, but with less stretch than your skinny jeans, so they're like your perfect vintage relaxed jeans," says Krug.
And, a 4.6 out of 5 stars (from 51 reviews) of these High Rise Dad Jeans attest to its near-perfectedness. "The fact that I can wear Abercrombie jeans now blows my mind! So kudos to them for finally including us curvy girls! […] I'm obsessed. Great high-waisted jeans that don't make you feel like you can't breathe or bend over! The legs have perfect stretch. I'm obsessed," writes one reviewer.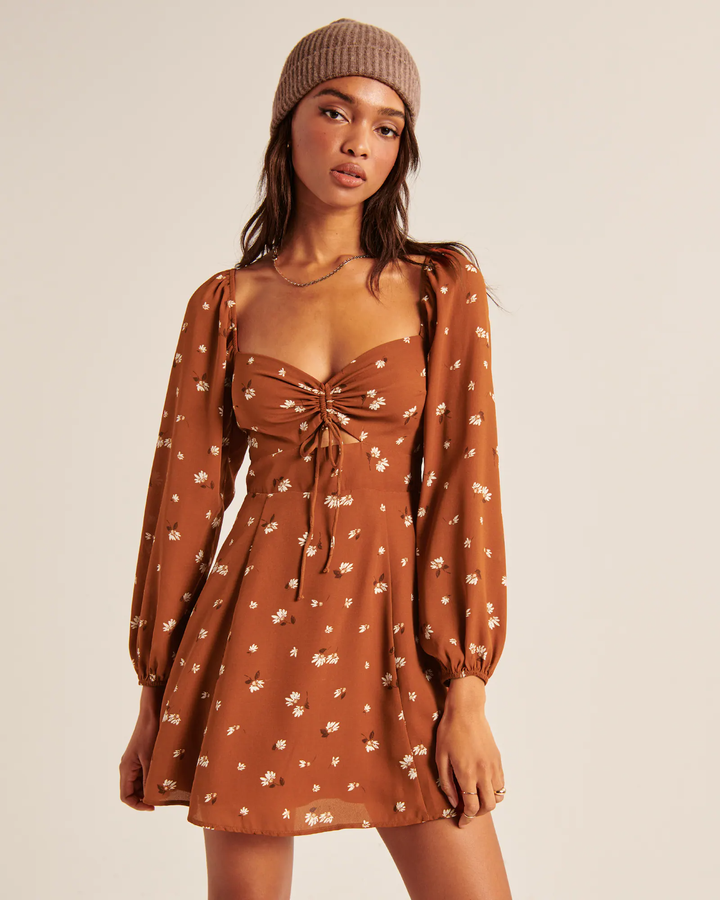 SHOP THISABERCROMBIE AND FITCHLong-sleeve Cinch-front Cutout Mini DressBUY$69.00ABERCROMBIE AND FITCH"With the flowy sleeves, the fun and flirty fit, and the peekaboo cutout, this dress is the epitome of fun and flattering," says Krug. "And the stretch in the back makes it able to work for multiple busts and body types."
Again, this is another 5-out-of-5-star style, perfect for both petite and tall shoppers alike. "I don't write many reviews but this dress is amazing!! So comfy and flattering. I'm 5'10" and 155lbs and got a small tall," writes a leggy customer. "I was going to get a medium but it was sold out and honestly you can size down if your size isn't available because it's a stretch material in the back. It's not too short too which I was afraid of."